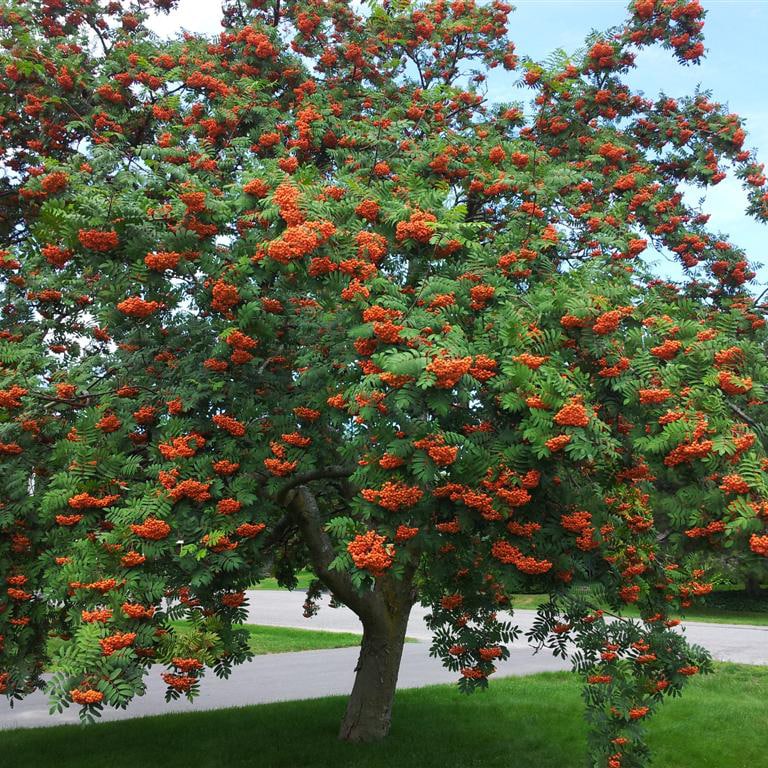 Medium sized American Mountain ash. Berries tend to be orange.
Berries tend to be much redder in the European Mtn. Ash.
It's NOT yellow. Most mountain ashes have strong oranges to reds in their fall colour.
In early summer the tree is covered in clusters of white flowers. Bees love this tree.
Each flower becomes a berry. Save the clumps that fall off the tree for winter bird food
This is the leaf. Separate leaflets on either side of the main leaf stem.
Example of a mature speciman.
Mountain Ash (Rowan)
Sorbus spp.
The Mountain Ash family
Pinnate leaves, with many leaflets.
Loose crown.
Large clusters of white flowers
Large clusters of orange to red berries.
Medium to fast growing trees.
Reliable fall colour with a mix of deep orange and red leaves.
Fairly short lived. Forty years is typical.
Salt intolerant. If you use de-icer on your sidewalks or driveway, put tree 15-20 feet from the edge.
Many people dislike the tree's habit of shedding big berry clusters in the wind in late summer. Berries are good bird food, and can be collected, frozen, and put on a platform feeder for a different selection of birds.
Soil Preferences: Moist, well drained acidic soil. Sun: Most references say 'Full Sun' but locally I find it as an understory tree in my poplar forests.
Cultivars:
Black Hawk Mountain Ash Sorbus acuparia 30 x 20 feet, upright rounded crown, Zone 2, Orange red fall colour. Selection of European Mountain Ash.
Columnar Mountain Ash Sorbus acuparia 'Fastigiata', Sorbus x thuringiaca 'Fastigiata' Variable height, upright rounded crown, Zone 3-4, Orange red fall colour. Several different trees are marketed as columnar mountain ash. I got a dozen one year that appear identical, but have two different tags. Go figure. Thuringiaca generally is a hybrid between European Mountain Ash (Rowan Tree) and Sorbus aria *(Whitebeam) The term 'fastigiata' means small branch angle between truck and side branches, and is almost always used when the 'others' tend to sprawl.
Russian Mountain Ash Sorbus acuparia 'Rossica' 30 x 15 feet. Somewhat narrower form, pyramidal, with more reistance to sun scald. Orange berries.
Showy Mountain Ash Sorbus decora 25 x 20 feet. Most cold tolerant, but slowest growing. Red berries. Less tolerant of alkaline soil.
Oakleaf Mountain Ash Sorbus hybrida, Sorbus thuringiaca 25 x 20 Leaflets aren't separated fully. This is the least cold hardy of the Mountain Ashes, but I think it has the nicest fall colour. The one in my demo park has been here for 3 years is is doing well.
American Mountain Ash Sorbus americana Medium tree to 40 feet. Not often found.
Inventory tables are double rows to make them usable on small screens.
Common name and container in column 1.
Count is how many we think we have left. Price is per tree.
Height will be there next year, we hope.
Leaf -- Mountain_Ash
Common Name
Container
Count
Price
Height
(feet)
Mountain Ash, Black Hawk
3 in. Caliper Amaroo Tree Box (100 liter)
2
$500.00
Mountain Ash, Oak Leaf
#10 Growbag (42 qt)
2
$160.00
Mountain Ash, Showy
#15 Std pot (45 qt)
1
$160.00
Mountain Ash, Showy
#7 Std pot (21 qt)
8
$140.00
Mountain Ash, Showy
#N/A
-1
$140.00
Last Update: 2022-May-17
---
---
Got something to say? Email me: sfinfo@sherwoods-forests.com
Interesting? Share this page.
Want to talk right now? Call me: (8 am to 8 pm only, please) 1-780-848-2548
Do not arrive unannounced. Phone for an appointment. Why? See Contact & Hours That same page gives our hours of operation.
---
Copyright © 2008 - 2021 S. G. Botsford
---
Sherwood's Forests is located about 75 km southwest of Edmonton, Alberta. Please refer to the map on our Contact page for directions.